At first, black paint may feel like a daunting proposition. The reality is that when it comes to any shade of black, the end result is sure to be both unexpected and incredibly sophisticated.
 From inspiration online, to advice from experts in-store, we can help you find the best black paint colors for any project.
Warm + Cool + Most Popular Black Paint Colors
The Beauty of the Black Living Room
Black walls can look great in any room. Often the rooms that are most successful have a balance between light and dark, where black walls are paired with a light floor color or furniture is upholstered in neutrals and white.
Black paint has an interesting effect on the walls of a room because the corners and shadows are obscured more than if a mid-tone or pastel color is used. This visual trick blurs the boundaries in a space and can make a room feel a bit more expansive.
Selecting Sheen for Your Black Paint Color
The selection of finish depends on the desired mood, aesthetic and functional goal of the room you are painting. For a highly sophisticated look, paint both walls and trim in one black hue, either using the same finish on both surfaces, or using a lower sheen on the walls such as a matte. Opt for a semi-gloss or high gloss on the trim for subtle contrast.
Here are some other tips when selecting the sheen for black paint…
Matte
A matte black paint delivers a soft, contemporary appearance.
Semi-Gloss
Higher sheens, like semi-gloss, are easy to clean, making them great options for cabinets or doors that are frequently opened, closed and in general, touched a lot.
High Gloss
A higher gloss offers dramatic highlights, making a black-painted room feel more formal. In general, deeper paint colors overall evoke more drama when paired with high gloss sheens.
Black Accent Wall. Posh Bedroom.
A black bedroom accent wall can add a layer of depth to the most private room in your home. Here, the classic combination of black and white layers beautifully with graphic elements. Consider bringing in bold strokes of geometric lines and pops of other colors to complete the modern look.
Another tip for black paint? Use lighter colors in adjoining rooms to balance out black's depth and darkness, creating a harmonious "color flow" in your home.
"BLACK EMBODIES BEAUTY AND SOPHISTICATION."
—Hannah Yeo
COLOR & DESIGN EXPERT
The Shades and Undertones of Black
Some black paint reads a bit blue. Other black hues have a brown edge. Then of course, there is "true black."
Here, we makeover a basic mudroom with dramatic gray-black Soot 2129-20. Its subtle blue undertone enhances the sumptuous quality of this particular black paint color.
How do you select the perfect black paint color for your home? Buying Benjamin Moore paint samples is always our top recommendation. Seeing black paint in different lighting conditions—think artificial lighting versus daylight—deeply impacts what a color looks like, and how you'll ultimately feel about it in your home.
A Striking Black Exterior
Painting a front door black is a favorite homeowner design choice. Painting an entire home exterior black is considerably more daring, however the result makes a powerful visual statement. We love the combination of green foliage and black exteriors. Here, Black Satin 2131-10 with Brilliant White OC-150 on trim really pops from the landscape.
In addition to being a standout color, a black-painted home exterior provides a practical color choice: black paint tends to hide dirt, so you can welcome guests into your home with carefree style.
Questions? We're Here For You!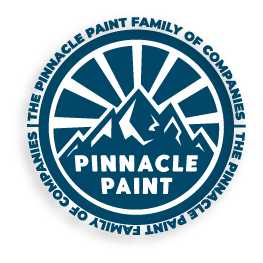 Frequently Asked Questions
When touching up a hole repair, why do I notice a difference, why is the color different?
Paint ages and loses sheen over time, so even within 3 months of painting, the wall is now less shiny than the touch up, meaning it will stand out more. In time the touch up will dull down and blend in a little, but the touchup must be applied lightly in order to keep the wall looking as close to uniform as possible.
Should I do two coats?
You should always do two coats for the following reasons:
-Uniform color - if you only do one coat there is no guarantee that the color will be uniform if the previous color is showing through due to improper film build.
-When doing a color change you should definitely not rely on one coat, depending on what you're changing to, 2 coats is usually enough.
Do I need to prime?
Priming is necessary when you have new drywall/drywall mud to seal it so that it doesn't absorb more paint than is needed. Also if doing a color change from dark to light 1 coat of primer might be recommended in order to achieve the desired color.
Why do I need to wait for the paint to dry?
The re-coat window is necessary to ensure that your 2nd coat doesn't re-wet the first coat. Applying paint too early can just re-activate the previously applied coat of paint, meaning that you don't get a proper two coat film build, and so it doesn't cover as two proper coats.
How long do I wait to be able to wash my walls
Most paints require 28 days to full harden and cure, giving you maximum durability for the product. only ever wash your walls with warm soapy water, avoiding bleach or ammonia based cleaning products.